Description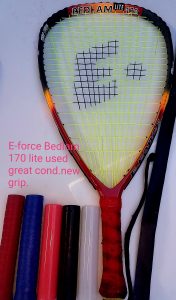 We just took in a used,in great condition..with orginal strings,,very little use on this racquet. Small grip..
AND WE WILL INCLUDE A FREE NEW RUBBER OR WRAP GRIP. INSTALLED,,YOUR CHOICE..PICK YOUR GRIP AND COLOR.
THE BEDLAM LITE 170 IS SUPER CLASSIC EFORCE BEDLAM..CARBON FIBER TITANIUM CONSTRUCTION. 107.SQ IN.HEADSIZE..FULL LONG STRINGS.
THIS RACQUET ALMOST NEW.
COMES WITH NEW GRIP OF YOUR CHOICE INSTALLED. FLYPAPER RUBBER,XTACKY RUBBER,OR BLACK WRAP..YOU PICK.ALREADY HAS FACTORY ORGINAL STRINGS.
Racquets4less@hotmail,will include a strip of rim protection tape and a free xvibe string vibration dampener.
Only 1 like this in stock now..