Description
PROKENNEX COPPER ACE. GREAT 21.5 INCH RACQUET EASY TO HANDEL; STIFF BUT NOT RIDGE THIS IS A HARD TO FIND TOP OF THE LINE PROKENNEX RACQUET-GREAT FOR THE SMALLER PLAYER-THIS RACQUET IS HALF AN INCH SHORTER THAN FULL LENGTH 22 INCH MODELS -BUT STILL HAS QUALITY HIGH MODLUS 60% AND 40% FIBERGLASS FOR THAT STIFF FEEL- WITH A NARROW BEAM 22MMD-200g + -.With 102 sq in Headsize.With Micro Carbon reinforcements strength & power.
$59.99 on sale.3 5/8 ONLY.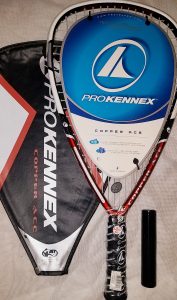 Has ProKennex Inbed Pre Strung Vibration Damperner factory installed.
Comes with racquet cover as shown,a 10.00 value.
And this racquet gets a FREE XTACKY OR EFORCE FLYPAPER RUBBER GRIP INSTALLED, your choice,a 10.00 value free.
Free rim protection tape included free.