I recently met up with Racquetball pro Chris Crowther down in La Costa Calif and took a lot of demo and some new and used E-force equipment he was no longer using ,Chris told me he was now focused on playing pro golf on the masters tour when he reaches 50 yr mark ,he is now 43 and he is already a very very good golfer I understand.
I purchased some classic frames that were once used by Chris and i know many players are looking for these E-force frames like Lethal nxt gen 170,175 and the hardest hitting Lethal ever the Teardrop 190,, we here at racquets4less kinda found our niche with alot of hard to find frames our maybe when we hear a mfg is going to be changing the line an design of their racquets i would attempt to purchase the last remaining inventory because I know once a racquet is popular and performs well many many players will continue playing an looking for thet past frame.
And thats what i did with Lethal NXT GEN racquets i did purchase a large stash of Lethal Nxt Gen 160 and 175 and continue to be able to finds buyers for these new 160 and 175 gram models,.I did tho run out of the popular 170 gram model an eventually the hard hitting 190..But i continue to still currently have the 160 quad and 175 quad,just go to my E-force section and you can find them at great price point,,and these gently used 170s and 190s that i got from Crowther you can see them as well,they are in great shape an I've examined them for any structural flaw,and i would not knowingly sell any new or used racquet like that at racquets4less.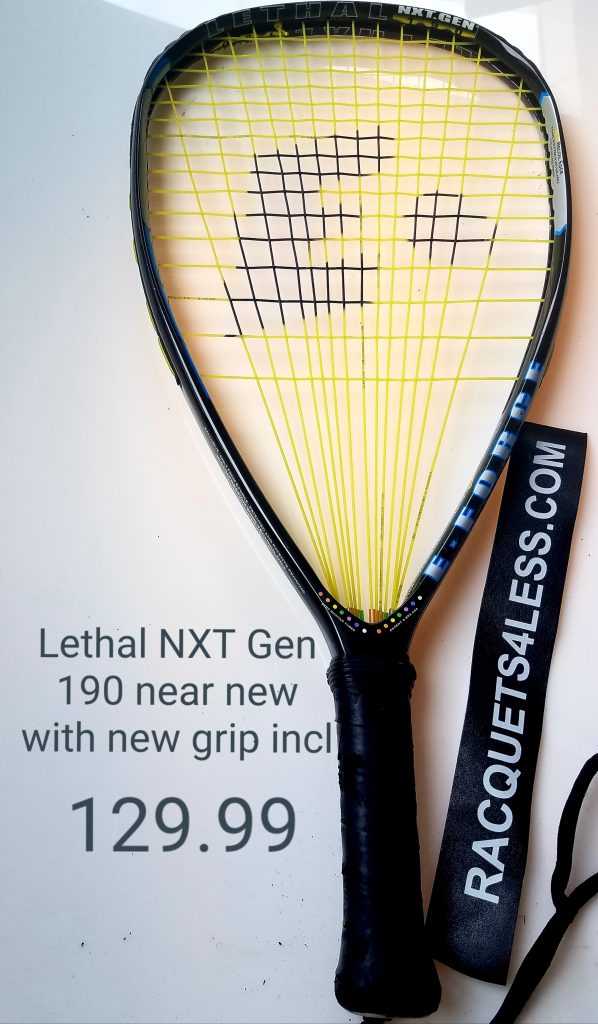 I did pick up about 40 frames from Chris and many of the racquets are on the heavier spectrum because he is a larger person an usally played with heavier frames like the E-Forces Command series and Command Power Flex racquets,i got some 175 and 190 models,some that had never been used and are in perfect condition, but even the used frames are in great shape,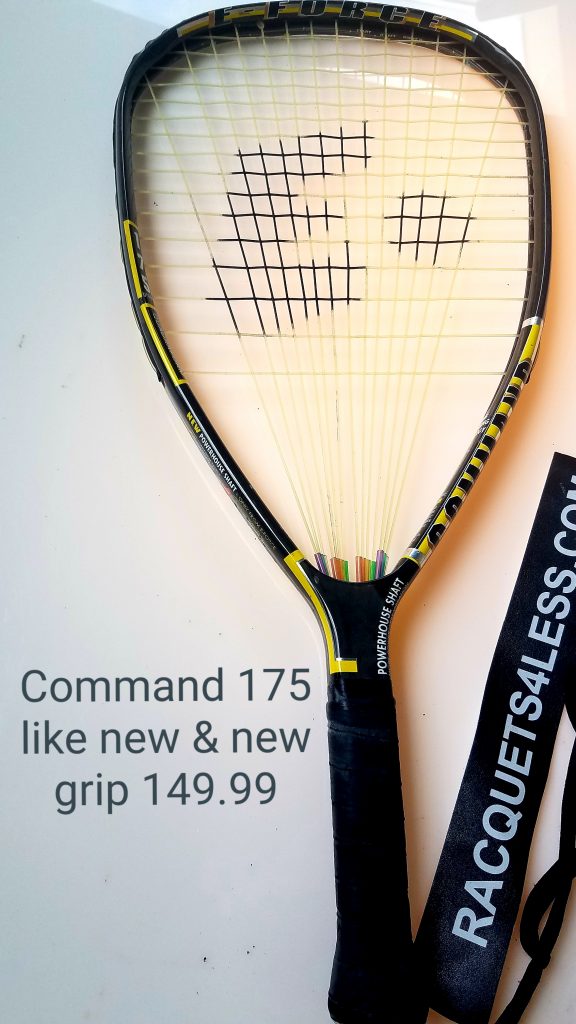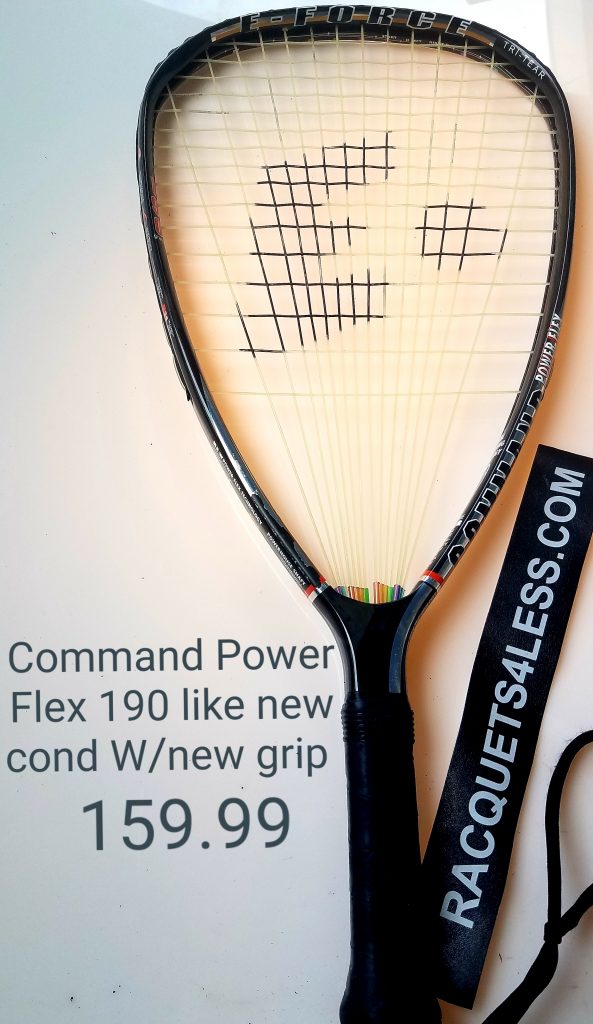 Also picked up some of the HeatSeeker orginal and HeatSeeker 2.0,this was the line after the Command racquetball racquets for E-Force,and i picked up 170 an 175 and 190 models of orginal and 2.0 Heatseeker.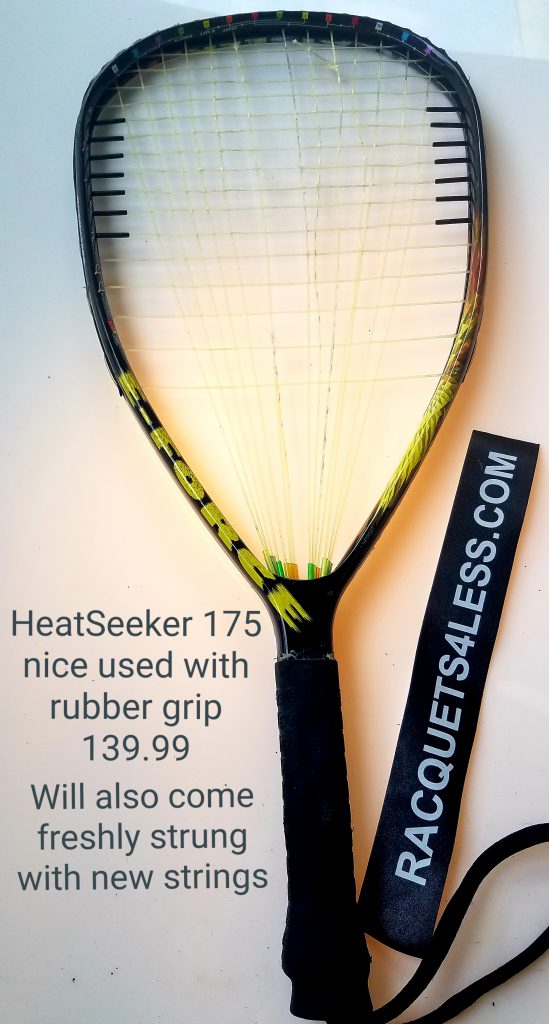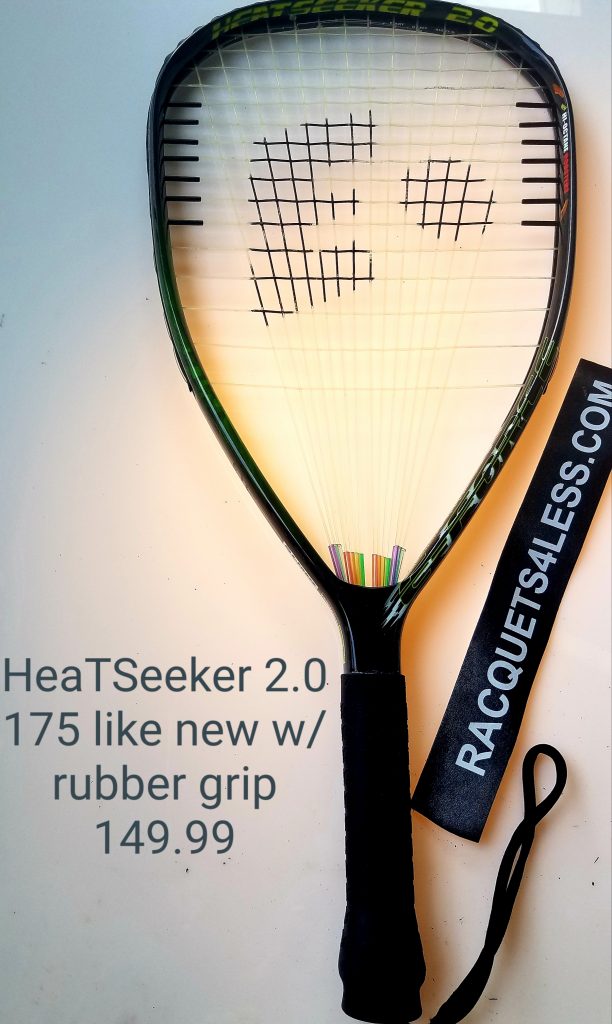 Also I found some lost Orginal Invasion and some Invasion X in my own inventory i had misplaced and i also purchased some slightly used demos racquets from E-force so with what i got from Chris and what i have in inventory i have a great selection of Original Invasion and Invasion X both new and used in stock.I have 160,170,175 and 190 gram racquets currently.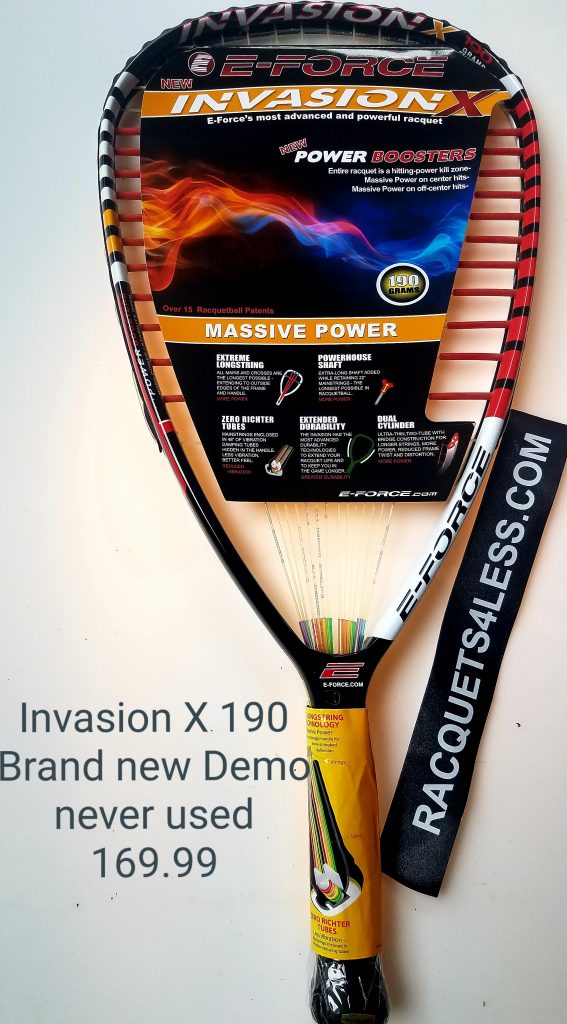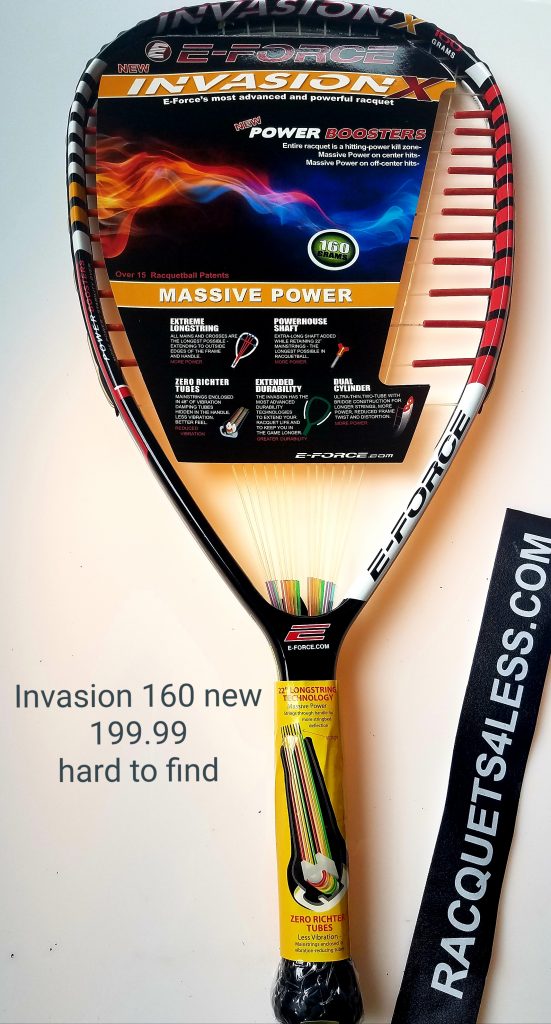 Also in the recently found inventory their were some Apocalypse and Apocalypse Beta racquets and i currently have now new and used various frames and weights.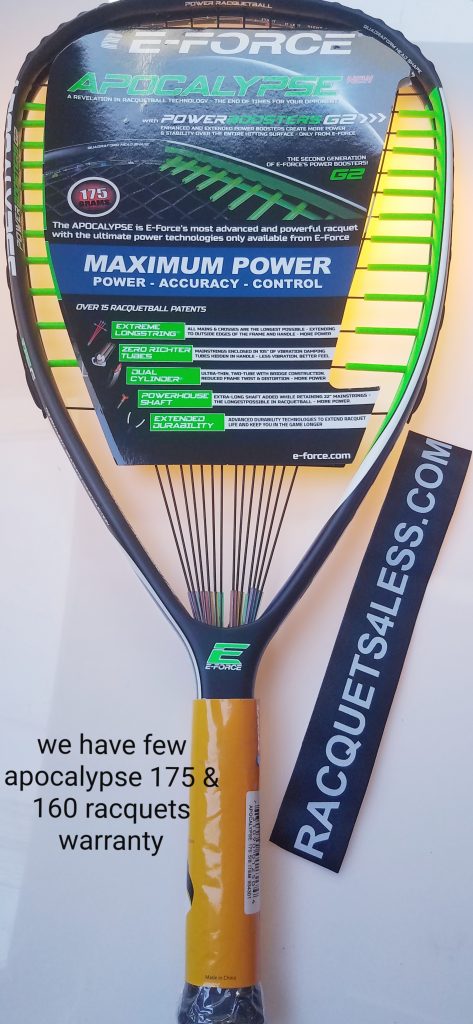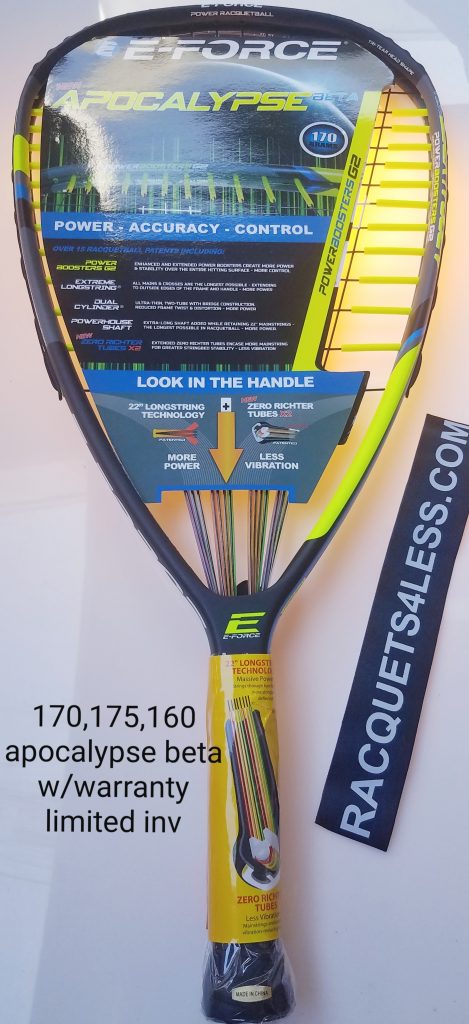 I want to point out also that once E-Force launched the Invasion X line of racquets about 13 years ago the mold or hard design of the frame itself has actually changed very little ,each NEW line like Apocalypse and DarkStar Take Over then Sector 5 Sector 5 plus and even now right up to the newest Fission technology line the actual frame itself has changed but very very little and actually you could most likely get a set of bumber gaurds from an Invasion X to fit a today newest Fission frame, the latest frame i received from Chris tho was a DarkStar 190 altho i have still in inventory new Takeover and Sector 5 and now Sector 5 plus and the newest Fission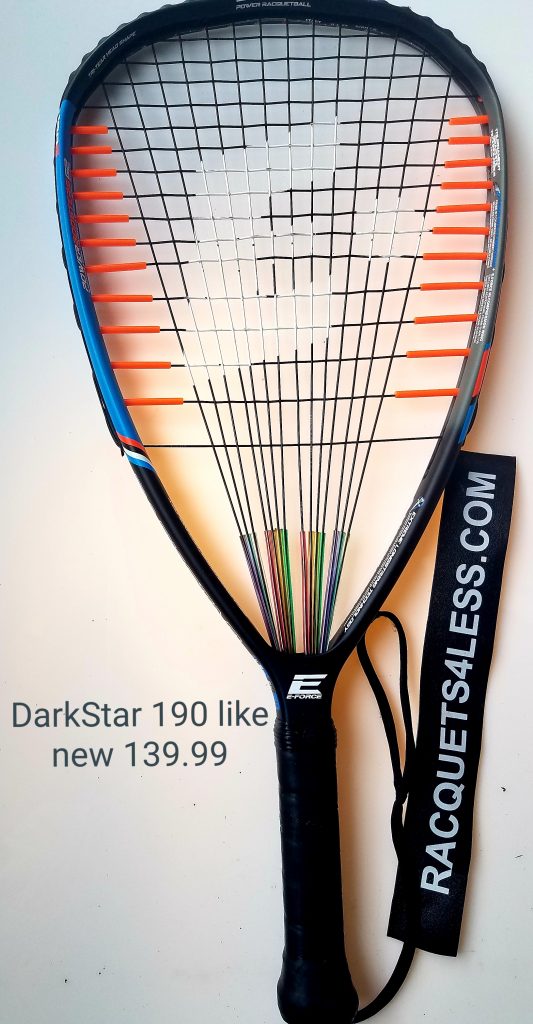 I picked up alot of great gear from Chris and wont tell you about all of it now but i will mention that i did get a good quantity of his very gently used E-Force Weapon gloves that are Right Handed size XL,as a sponsored player he always changed his gloves alot so these gently used Weapon gloves im offerring for 79.99 for 10 gloves including free shipping, they have alot of good hard plsy still in these slightly worn gloves.size is right hand XL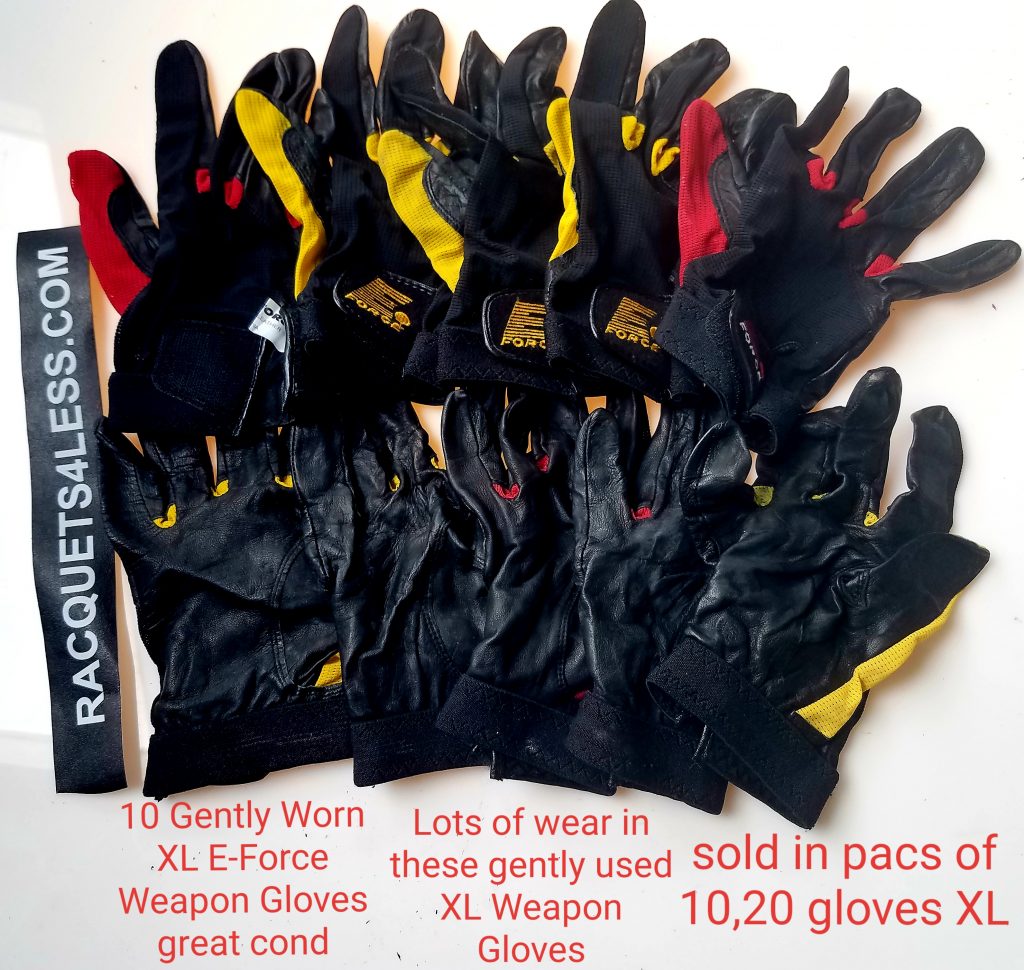 Also got some Edry long sleeve and E'Force cotton logo court shirts,and i picked up alot of Sample E-force clothing awhile back at the warehouse so if your looking for E-force warm ups,or any logo apparel or even retro bags I've probably got something you need.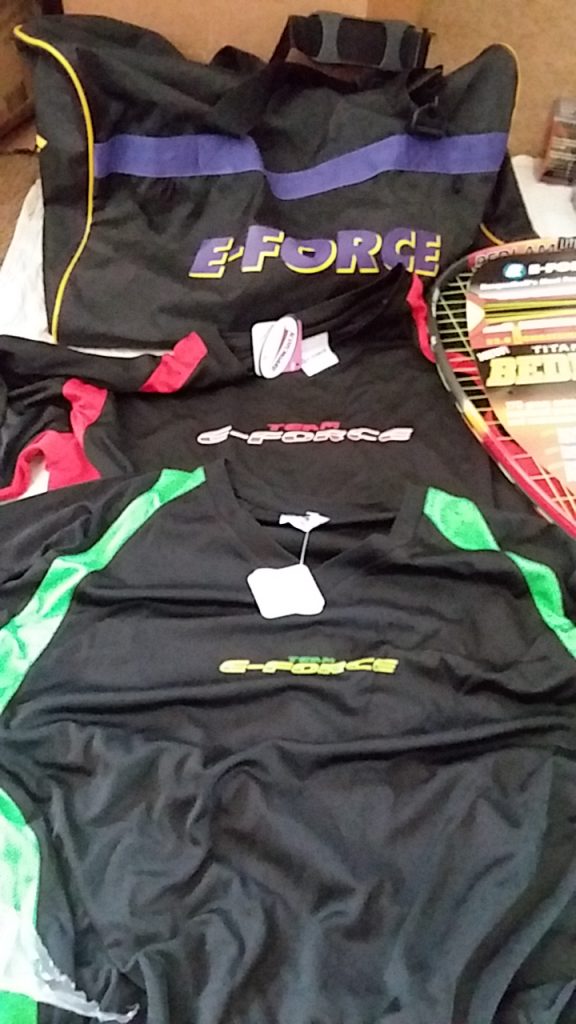 so if your looking for that hard to find one of a kind racquet mens or women's E-force clothing or bag ect..check me out or give us a call like i say i have some womens E-force duds also..
truly.john of racquets4less.
Apocalypse beta racquetball racquets
,
Apocalypse racquetball racquets
,
Classic hard to find frames from E-Force
,
Command power flex racquetball racquet
,
Command racquetball racquets
,
Darkstar racquetball racquets
,
Fission racquetball racquets
,
Heatseeker 2.0 racquetball racquets
,
Heatseeker racquetball racquets
,
Sector 5 plus racquetball racquets
,
Sector 5 racquetball racquets
,
Takeover racquetball racquets
,
Used e-force racquetball racquets
,
Used racquetball equipment
Apocalypse beta racquetball racquets
,
Apocalypse racquetball racquets
,
Classic hard to find frames from E-Force
,
Command power flex racquetball racquet
,
Command racquetball racquets
,
Darkstar racquetball racquets
,
Fission racquetball racquets
,
Heatseeker 2.0 racquetball racquets
,
Heatseeker racquetball racquets
,
Sector 5 plus racquetball racquets
,
Sector 5 racquetball racquets
,
Takeover racquetball racquets
,
Used e-force racquetball racquets
,
Used racquetball equipment