Description
We just took in a very very retro Wilson DLX 190..
This is a beast of racquetball racquet,,Former number 1 player Cliff Swain put the DLX series on the map by using the popular Wilson DLX 150,there was also a DLX 170 model,,this is the Heavyweight 190 DLX in great condition.
Here we have a near new 190 with orginal factory syrings,showing very very little use,,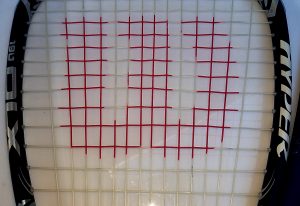 We will also install a brand new grip of your choice,,just tell us,if you want the black wrap resin grip,,or any of these aftermarket rubber grips YOUR CHOICE…get the eforce flypaper, or octapus, or xtacky rubber grip..colors are as shown..red black,pink,clear,blue.no extra charge we will install this grip.on this classic Wilson DLX racquet..gripsize is super small.1 in stock only.hard to find.in great shape. Orginal factory strings on this racquet.And we will also include a free xvibe string vibration dampener and a strip of rim protection tape included. Along with your choice of either a new synthetic wrap or rubber grip included installed.