Description
Only 1 left in stock..only 1 still.in stock..nice racquet ready to plsy.
ONLY 1 STILL IN STOCK.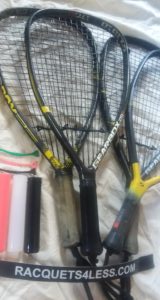 Used gearbox racquetball racquets quad 170 quad silid 1.0 yellow ,.Hello all you Gearbox racquetball equipment lovers we here at RACQUETS4LESS just recently took in 8 used Gearbox racquets,,the models we have are all solid 1.0 170 quads yellow and black,small grip,they are Solid 1.0 yellow 170., all are used but in great shape and NO major cracks or fractures,,they all show normal wear some less some more,..cost is 114.99 each free shipping in USA and each racquet will be freshly strung with black hyperion 16g,or 17g gearbox  natural mono your choice,,and each will have a new black wrap grip installed or either the smooth rubber tacky XTACKY ,or Eforce Flypaper installed or a black synthetic wrap grip,,if you need a python grip its 10.00 extra,,And please call 8186253634 with any questions.
THESE  USED  GEARBOX RACQUETS ARE TOP OF THE LINE MODEL ,SOLID 1.0  170G QUADS FROM GEARBOX NORMALLY SELLING FOR OVER 200.00 EACH,,
SELLING FOR 114.99 EACH YOUR CHOICE..ALL WILL BE FRESHLY,NEWLY STRUNG, WITH RUBBER GRIP INSTALLED,AND XVIBE STRING VIBRATION DAMPENERS  INSTALLED AS SHOWN,,AND I WILL INCLUDE RIM PROTECTION TAPE FOR BUMPERS,,,SO THESE RACQUETS ARE READY TO GO..PHONE ME FOR MORE INFO IF NEEDED.ALL ARE SMALl GRIP.
I