Description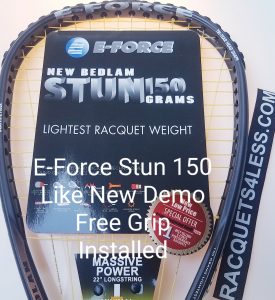 We were recently allowed into E-Force Vault of Hard To Find very classic models racquets straight from the Warehouse in San Diego.
And we chose the All Time Lite but Powerful Bedlam Stun 150 we have a limited number of these Demo Like New Condition racquets available. Some even have plastic wrap and placards on the racquet but these are Demo models so no implied mfg.warranty. But they all are LIKE NEW CONDITION and we will install a New E-Force FLYPAPER rubber grip at no charge or leave the factory wrap grip on ,your choice.
The Classic Bedlam Stun 150 has small 3 5/8 Grip,Richter Tubes,LaunchPad technology, 22 longstring, monster string holes,total carbon head,teardrop frame,fat zones,wishbone frame,power trac,bypsss string system, tri carbon frame.tri tear headshape.ALL THIS TECHNOLOGY IN A 150 GRAM MODEL, SWING WEIGHT 130…cost 104.99 free shipping.
Hard to find this E-Force model like new from Warehouse.