In June 2019 check out great Press for XTP Tennis butt cap product.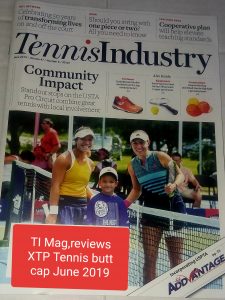 Tennis Industry Magazine is getting the word out about the newest easiest way to customize racquets or paddles.
And we are currently in talks with major Manufacturers about the XTP Xtended Tennis Product and Taper SYSTEM.
STRETCH YOUR GAME TODAY WITH THE XTP XTENDED TENNIS PRODUCT BUTT CAP.
SIMPLY PUT THE XTP IS A GAME CHANGER IN RACQUET CUSTOMIZATION. PUTS EXTENDED RACQUETS IN REACH OF EVERY PLAYER WANTING TO TRY A LONGER RACQUET.
Cost: single cap 19.99, 2~Pac 29.99, 3 ~Pac 34.99, 4~Pac 44.99, 5~Pac 54.99 all prices include free shipping in USA, Check for International ship cost,we have distributors in Australia/New Zealand and the UK.Wholesale prices staring at 10pc for USA tennis shops.