Description
We have recently taken in another Classic Racquet and offering it here .
It's a Like New excellent condition with orginal factory strings ,Bedlam X170 .and we will install the grip of your choice ,either a black wrap synthetic grip or we install a Eforce black flypaper or Octapus rubber grip or a XTACKY rubber grip of your choice.
This racquet is a 3 5/8 grip.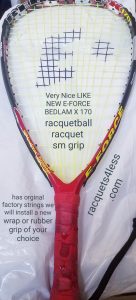 170 grams with a swing weight of 139g,full motion cross string technology, FAT zones fiber alignment technology, Tri carbon frame,longstring technology .Classic E-force racquetball racquet.
Only 1 in stock,hard to find this 170X model.
Comes with rim protection tape and Xvibe string vibration dampener free.
Free shipping in USA.