Description
E-force Next Gen Lethal 175 Quad = POWER AND CONTROL 175 GRAMS-RECOIL POWER RIDGE, $124.99 AND I WILL NOT BE UNDERSOLD FREE PRIORITY S/H IN USA. 100% CARBON FIBRE FULL MFG. WARRANTY 3 5/8 grip.and with this racquet .
And I will include a FREE E-FORCE Flypaper or OCTAPUS rubber grip for free a 10.00 value free included,shown in photo your choice of black red or blue-your choice just specify when check out……………….FREE RUBBER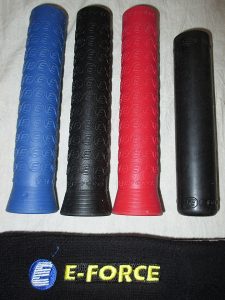 GRIP Installed..124.99. If you don't want rubber grip it will come with black wrap synthetic grip. Just let us know.
Hard to find this CLASSIC e-force racquet at this great price.
Only a few in stock then gone.
I like the Nxt Gen better than the Reload models..Just SAYING.
Free rim protection tape for each racquet included.