Description
E-Force DarkStar-Dark Star DARKSTAR 170 TEARDROP.169.99ea.VERY FEW OF THESE IN STOCK NEW.
IN STOCK READY TO SHIP. 169.99.FREE SHIPPING IN USA. ALSO FREE RUBBER GRIP INSTALLED or leave it factory black wrap your choice. AND FREE RIM PROTECTION TAPE INCLUDED.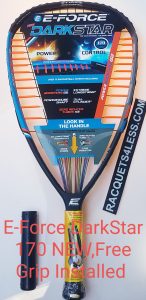 NOTE:We also have the 160 quad DarkStar racquetball racquet in our inventory call for pricing availability 179.99 call on this new 160 darkstar only 1 in stock.8186253634.