To play or Not 2 play- That's the question.
Indoor or Outdoor that's the question.
Since the Quarantine covid 19 when all gyms have been closed along with Tennis courts, Paddle Tennis and Pickleball we here at racquets4less have had the opportunity to reinvent ourselves with Ourdoor One Wall racquetball.
I originally about 5 years ago met a group of mostly east coast guys at a local park here in San Fernando Valley, in Universal City California near were I live.At this North Weddington park it has among its many features an chain link enclosure a hitting Wall.And this enclosure gets many types of use from kids skating and drawing chalk graffiti to tennis players hitting against it,to dodge ballers and handballers using this Wall to get some great excercise and outdoor activities in.
It's a chain linked enclosure around a very solid Concrete Wall, The Wall is 20 ft wide and I think it must be 40ft high,it has at bottom a 20 by 45ft slab of concrete slab floor and another 7 ft of surrounding blacktop enclosed by a 20ft high chain link fence.
Now normal outdoor Racquetball is normally 3 wall  with short sidewalls that give the player an opportunity to hit pinch shots.But this Wall at this park is only the Wall and has no side walls whatsoever, Staight In Straight Out. And it makes for a very tough game in that it's all about Control, because it's very easy to over hit and if the ball does land on the concrete slab it's out of bounds and counts as a point or Sideout.
It makes for relearning what skills you have on the Indoor 4 wall court,and not so much about power as placement.
Thank you Covid 19 quarantine for opening my eyes to another great park in my area and The Wall,hitting by my self with racquetball,or even bringing the Pickleball paddle and hitting against it also.
I did reconnect with some players and we did play plenty of games of 1 Wall outdoor Racquetball-Strsigh in Straight out.
I would say a little heavier durable racquet is the type you would want for this game since placement over power,and durable is key because the floor is concrete and can take its toll on lighter brittle racquets.I mostly played with a Bedlam 170 with protection tape around the rim.
Dont worry so much about the Racquet, just get out and play the equipment will take care of itself in the long run, but put plenty of protection tape on lighter racquets as the Slab can hurt those 150 gram frames.
But any racquet is fine,we have some great used Ektelon and Gearbox racquets.Dont let equipment hold you back,Get Out and play.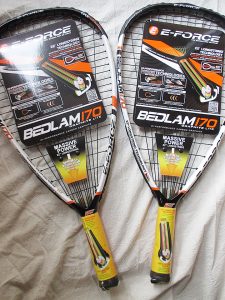 Even that used racquet you haven't touched in awhile can shine again on the Outside outdoor court.We have some used durable Gearbox 170 quads just inching to make a stand on the concrete Slab,or the old Power Ring Ektelon,give these racquets a chance to Swing in the great outdoors.
And old Ektelon Power Ring.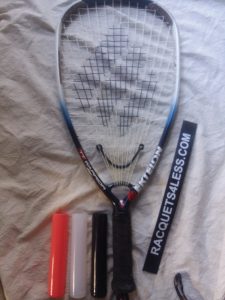 Heavier is probably better for Outdoor Racquetball.Durable Durable Durable.
Even a 190 gram Lethal Reload can do some serious damage, it's a beast of a racquet.