We here at racquets4less have shoes for Racquetball,Squash,Pickleball,Badminton,Paddle Tennis and Tennis..and are located in Sherman Oaks in San Fernando Valley zip 91423..In Los Angeles California.
We know how hard it is to purchase shoes via the Internet and the best way it to TRY THE SHOES ON BEFOR YOU PURCHSSE so stop by and i have many brands of these hard to find Indoor court shoes as most Tennis Shops do not carry Indoor Sports shoes for Racquetball or Squash,Badminton,, Now the Sports like Paddle Tennis or Pickleball can use hardcourt Tennis shoes and we carry those shoes also and have a very very good selection here at Racquets4less..
We have several Top Brands in stock mostly either Wilson and Head but also have HiTech,ProKennex,Harrow brands all are top brands for indoor court shoes.
AS FAR AS PRICING GOES WE ARE RACQUETS4LESS SO we sell shoes for less also,we specialize in getting in on special closeout pricing from Head ,Wilson and other major brands as way below retail is out goal and offering the newest and very top quality and most sought after models and can offer several selections and sizes in most cases.We specialize in sizes from 8.5 to 14 in mens and sizes 6 through 11 in womens..And we are alesys getting in new models and sizes..WILL MEET OR BEAT INTERNET PRICES.
Our hours are somewhat limited so.make sure to call first. and i will personally check inventory before you arrive and set up time to show footwear specific to your need.
So befor you go thru the hassle again of buying shoes on line for Indoor sports like Racquetball,Squash Pickleball Paddle Tennis and even Harcourt Tennis give us a call we can save you time and $$$$,.Located in Sherman Oaks Calif.Near LA Fitness on Coldwater Canyon..
And if your a racquetball or squash player or even a tennis player with a broken string we do racquet stringing and can restring your racquet while you check out the shoes..
Give us a call 8186253634 and stop by.
We recently just picked up alot of Wilson closeout indoor Kaos,Storm and Rush Pro 2.5 indoor and hardcourt at shoes at great savings.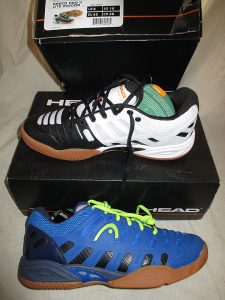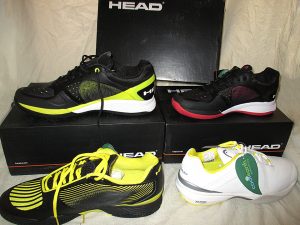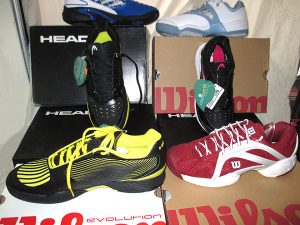 in
ALL THE ABOVE IS JUST A SAMPLE OF WHAT WE CARRY ALWAYS NEW MODELS AND SIZES ARRIVING.