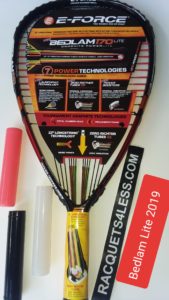 E-force Bedlam racquetball racquets are a Go-To racquet for racquetball,Maybe the Best Bang for your buck racquet of All Time From E-force.
They have had many cosmetic changes and even some weight variations now but either way Racquets4less.com has these models at great savings and we speak from experience as we are a player of racquetball for many years and know of what we speak.
We currently have the Newest 2019 Bedlam lite 170 with power Boosters and offer it with a Free aftermarket XTACKY Rubber grip installed,or not,for only 95.99 and you can purchase a Pair/2 of these 2019 models for only 179.99.thats less than 90.00ea..
You can also purchase the Very Very Popular Bedlam Stun Quad 160g at the same low price as well.
You want an even lower price we have a few,Very few in stock of the 2017 model Bedlam Lite 170 with white/Orange/Black graphics for only 79.99 each,
And will still have just a very few of the Original Bedlam 170 lite for that 79.99 price,but these will not last long as the Original Bedlam with old school Technology and Graphics is foing fast.
WE AT RACQUETS4LESS HAVE A GREAT RELATIONSHIP WITH EFORCE RACQUETBALL AND MANY TIMES HAVE MADE SPECIAL PURCHASE BUYS AND PASS THE EXCLUSIVE SAVINGS ALONG TO YOU-THE PLAYERS-.
We currently have also some of the Orginal Next Gen Lethal 190,175 and the 160 Lethals in stock at Great savings and many many players feel the nxt gen Lethals are Superior to the Reload models.
So check out Bedlams and Lethals,these Racquets are some of the Best Bang for your Buck in racquetball.
But if your budget says Takeover or Darkstar we can find ways of saving Players Money on these current inline E-force models..dont hesitate to give us a call,we can talk racquetball and racquets,bags,gloves eyewear, shoes,ect,we have a goal to save THE PLAYERS $$$ on every aspect of racquetball equipment.
Just browse thru the Eforce section of our site to see these items i have just mentioned.
Tuly.john of racquets4less