We are getting in the Very Lightest Eforce racquet in again ,the Bedlam X 150 and low cost of 89.99 free shipping,free Eforce FlyPaper rubber grip, Free XVIBE string vibration dampener included and free rim protection tape,,
So get another free 10.00 value with the Bedlam x150 ,this is the 100% carbon fiber, carbon head teardrop,fast light swing weight of only 125g.WOW,small grip.with mfg.warranty. New racquet.
And if you need 2 of the Bedlam x150 sold as a pair they are only 84.99ea..call on this.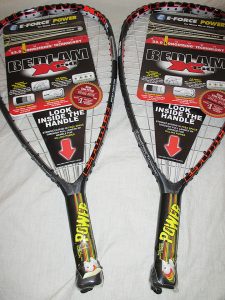 And if your still wondering what's going on in Area 51 the Sector 5 racquets are at prices to low to advertise, So Call  about all models,160,170,175,190 ,dont be afraid to ask.8186253634..john