Description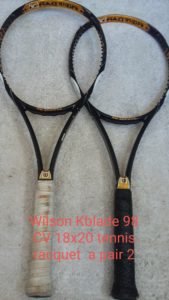 We have a pair,,we are selling these Wilson K blade 98 racquets as a pair,,your getting 2 racquets here,,not splitting these up.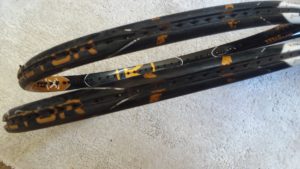 99.99 buys both of these racquets, including free shipping in USA.Free shipping included in the USA,,,99.99
International shipping is more,contact me for possible shipping outside USA.
These 2 Wilson kblade 98 CV 18×20 used tennis racquets,,seem to be a 4 1/4 L2 gripsize and I have looked for a marking but can not find it but very very sure they both are L2 grips.
These used racquets are well worn but not cracked or broken.
,,the top bumpers are worn thru but unside thru grommets are in tack and good,,and will take trings nicely..but would need rim protection tape as bumpers are worn.bumper guards worn on rim.
99.99 buys both not sold separately. Both in basically same condition.