Description
We here at racquets4less recently received a few Hard to Find model racqueball racquets.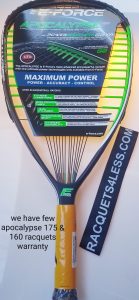 We a few of the Eforce Apocalypse 175 quad racquetball racquet new w/warranty and small grip. Classic hard to find duel Cylinder model.we have limited inventory of only 3 ..these orginally sold for 220.00 each we are selling these 175 g for 189.00 ea..
We also have 1 of the Apocalypse 160 g for 199.00 call us on this frame.