Description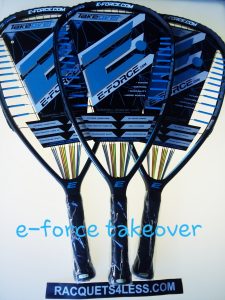 The newest in 2018,19 TakeOver,Take Over line of racquetball racquets the 160 quad,170 teardrop,175 quad,190 teardrop all models have arrived, and we at Racquets4less could not be positioned better to offer the new TakeOver, Take Over racquet to the serious player..We think Only about racquetball at E-force, we do only racquetball..We want the very best products for racquetball..How do YOU feel about your racquetball game?
We recently were at the Old Eforce warehouse in Carlsbad Calif,and the management says take it all,all of the slightly used Demo bags and logo samples of many many years of new clothing that they had from men's to womans to juniors, Take it all,,so Loaded up the Truck and I moved it to our warehouse, now I am passing this SPECIAL offer to all new TakeOver racquet purchasers..
Just pay extra ship fees on promo ietms,bags or clothing,1 per racquet purchase. Call.